Exploring Pondo Stitch a.k.a. African Circle Stitch
I've discovered this traditional tribal South African beadwork stitch in The Bead Book magazine (Issue 6; 2007) and just had to try it straight away! It looked different, it looked simple and (deceptively) easy. The instructions in the magazine are written by Susan Mandel (USA) and Nicholas Kap (JHB, RSA).
The basic pondo stitch only asks for two colors/sizes of seed beads – a perfect "midnight stitch" for when you want to start working immediately and still get some sleep
I'm over excited at the unique geometry of the pondo beadwork and see so many possibilities to use it as a base for embellishments and variations it makes my head spin. Only six rows into the beadwork I left my working thread dangling, picked a new thread and started building on top – I just couldn't wait and had to see "what happens if..". And here's what happened:

I just wish the Czech seed beads were more uniform in size…
Color/bead choices were spontaneous and I'm not completely satisfied with the result but guess that's what the beads wanted from me tonight. Now there's 1001 ideas lining up what to do next
On the second day of playing with the stitch I went to see what others do with it. This gorgeous stitch is so overlooked! At the moment Google gives only 1.770 results when searching for "Pondo stitch" .. compare that to:
509.000 results for "peyote stitch";
116.000 – "herringbone stitch" (1.590.000 if you don't use quotes);
19.700 – "netting stitch" (1.490.000 if you don't use quotes);
232.000 – "brick stitch" (535.000 without quotes);
And most of those "pondo stitch" links are featuring the same copy/pasted paragraph about the beadweaving types or are outright useless..
By the way, the other name for the Pondo stitch is African Circle Stitch, and although Google shows over half a million results for this search, the majority of them are junk too.
It seems that the stitch got most publicity around the time it was published in 2007 in the Beadwork April/May magazine – there are quite a few similar looking bracelets (two strips of Pondo beadwork connected with crystal "ladder") posted around 2007-2008 on the blogs. And it looks like the stitch was later forgotten by most. Sad.
Susan Mandel, the co-author of the Pondo stitch instructions first published in the beadwork magazines, explains the history of the Pondo Stitch on her website.
Its origins have been attributed to the Zulu however we have found evidence of its use from photographs from the mid-19th century in peoples other than Zulu.

Amanda writes about different beadwork stitches originating from Africa and tells us more about Pondo people.
She writes: "Traditional colors are very important to the Pondo. You'll find that pale blue is the dominating color in celebratory clothing for adults, and red or orange for children. "
Mandy @ Beads For Brains: 365 conquered this stitch on Saturday, May 14, 2011 – this is probably the most recent write up on this stitch. Mandy also shares her frustration with trying to track a free pattern for this stitch: "I found two sites where you could download the pattern for a price, and then finally…an English site that led to a French site, that led to a Swedish site, that led to a free PDF pattern in Japanese!"
Kassie @ The Beading Butterfly has a 'Daydream Garden Bracelet' tutorial for sale – an embellished version of the pondo stitch. She comments that the stitch "works up like a cross between right angle weave (RAW) and brick stitch. I really like it because it's just as quick as RAW, but seems to be sturdier due to the brick stitch aspect of hooking the thread sometimes instead of passing through all of the beads again."
Four years ago, around the time the stich instructions were published in the magazines, Jodie Marshall complains that the stitch is too slow and recommends using the simple netting for a similar look (but it's NOT the same!!)
And finally a glimpse at the everyday life of the people from Pondoland through the camera lenses of Lauren Barkume. A great photoset on Flickr


Some Pondo stitch images from around the web
Pondo beadwork bracelets look stunning!

By msrealdoll on Flickr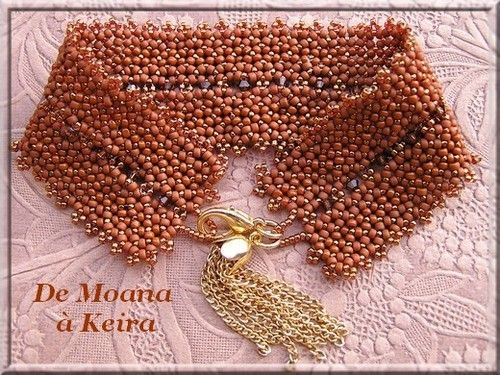 Les trésors de Keira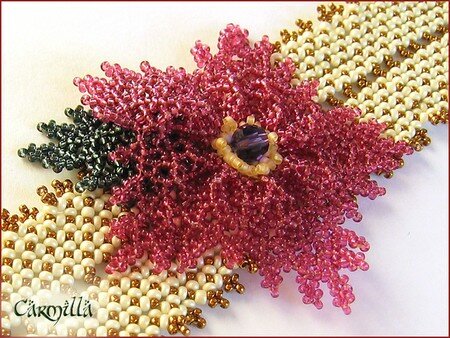 Les Bijoux de Carmilla

Delicando e Oltre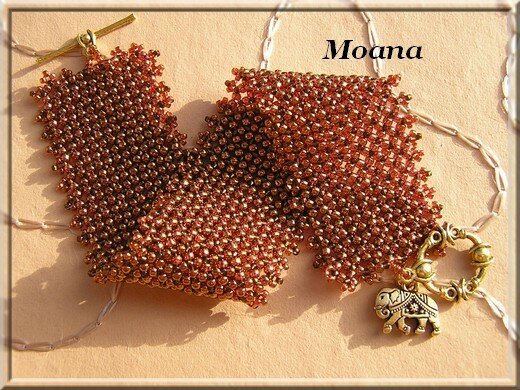 Les perles de Moana

Lilie-Poupette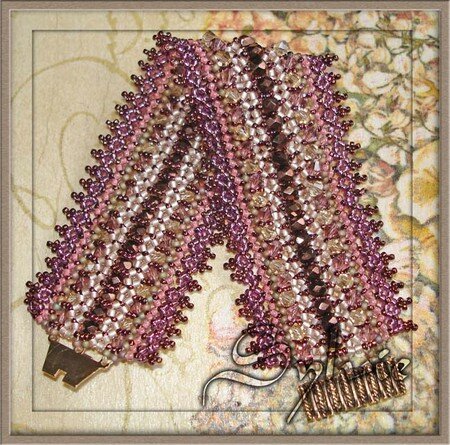 SaPERL'ipopète

Les Perles de Pencio
The end.. for now
Here I wanted to place an Etsy Trasury of jewelry made with pondo stitch, but there are only two items on Etsy – one of them the tutorial already linked above. Oh well.

Have you tried Pondo yet? What are your thoughts? Have any pictures to share?